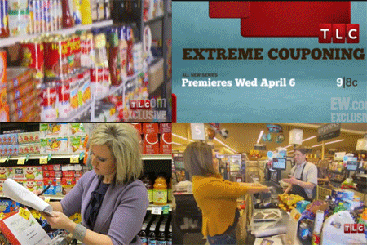 Check it out the NEW series starting April 6th on TLC.. setting my DVR already ;)
And in case you were missed the pilot episode (REALLY!),
Then you can say 'Honey look "the krazy coupon lady, Joanie".. I know her!!
Well not really.. but I read her blog all the time!! ;)
Beware there is a HOARDER 'Amanda . Not sure how she thinks buying bags of food and candy bars then storing them in the same grocery bags from the store in her hubby's man cave is some how ok!
Not to mention she has insurance on her stock pile and ditches her Husband and family events just to go shopping! Come on, she makes us real couponers look so BAD! Were not all like this.. I hope!